Колядки макросім'ї ‹V55,р4› із редукованим рефреном «Ой дай, Боже» в басейнах Дністра і Тиси
Ключові слова:
колядки, жеканки, рефрен «Ой дай, Боже», Гуцульщина, Покуття, Підгоргання, Поділля, Дністер, Тиса
Анотація
У південно-західній Україні колядки макросім'ї ‹V55,р4› часто побутують з неповним, скороченим рефреном «Ой дай, Боже». Іноді такі зимові пісні називають «жеканками» – від останнього складу рефрену, з якого розпочинається спів. У статті розглянуто кілька різновидів редукції рефренів «Ой дай, Боже», які умовно поділено на дві групи: 1) зі скороченням лише складів; 2) з редукцією складів та музичного часу. Визначено вплив видозмін на композицію та мелодичний розвиток, окреслено ареали поширення різновидів редукції рефренів та ймовірні причини, через які ці явища могли виникнути.
Посилання
Bereza, R., Datsko, M. (1997). Narodni pisni z Halychyny [Folk songs from Halychyna]. Leningrad: Svit. [in Ukrainian].
Efremov, E. (2016). Zymovi pisni. Koliadky I shchedrivky [Winter folk ritual songs. Koliadky i shchedrivky]. In the book History of Ukrainian music Vol. 1. Book. 1, pp. 41–55. Kyiv [in Ukrainian].
Efremova, L., Dmytrenko, M. (Edd.). (2014). Narodni pisni Khmelnychyny (z kolekciy zbyrachiv folkloru) [Folk Songs From Khmelnychyna]. Kyiv: Naukova Dumka.
Hoshovsky, V. (2003). Ukrainskiye pesni Zakarpattya [Transcarpathian folk songs]. Lviv: Lvivska nauk. biblioteka im. V. Stefanyka NANU.
Hoshovsky, V. (1971). Tipy ukrainskih kolyadok I ih strukturno-ritmicheskiye raznovidnosti u slavian [Types of Ukrainian winter ritual songs and their structural and rhythmic varieties among the Slavs]. U istokov narodnoy muzyki slavian. Ocherki po muzykalnomu slavoanovedeniu [At the Origins of the Folk Music of the Slavs. Studies Essays on Slavic Musical], pp. 81–138. Moskow: Sovetskiy kompozitor. [In Russian].
Hryniuk, P., Sydorin, A. (Ed.) (1987). Ukrainska RSR: Administratyvno-terytorialnyi ustrii: na 1 sichnia 1987 roku [Ukrainian SSR: Administrative-territorial system: as of January 1, 1987]. Kyiv, 504 p. [in Ukrainian].
Koval, V. (2006). Heneza lokalnoii typolohichno heterohennoii narodnovokalnoii tradycii (na materialah obradovyh naspiviv iz okolyts na pivnichnyi zahid vid Gorgan) [Genesis of the Local Typologically Heterogeneous Vocal Folk Tradition (based on ritual melodies from the northwest of Gorgan)]. (Unpublished dissertation… Cand. arts. 17.00.03). Lviv. 189 p. [in Ukrainian].
Kvitka, K. (1922). Ukrainski narodni melodii [Ukrainian Folk Melodies]. Kyiv: Slovo. 236 p.
Kvitka, K. (1973). O prirode pauz v narodnyh napevah [The appearance of pauses in folk tunes]. Izbrannyie trudy [Featured Articles], Vol. 2, pp. 66–77 Kyiv. [In Russian].
Lukaniuk, B. (2017). Muzychnyi chasokilkisnyi rytm [Music Time-Quantitative Rythm]. Lviv, 2017. 304 p. [in Ukrainian]
Klymenko, I. (2017). Ukrainska zymova makroarealohiia v konteksti sloviano-baltskoho rannotradytsiinoho melomasyvu (SBRM). Chastyna 2: Indeksovanyi reiestr zymovykh meloform [Ukrainian winter macroareology in the context of the Slavic-Baltic early traditional melody (SBRM). Part 2: Indexed register of winter meloforms]. Problemy etnomuzykolohii [Problems of Music Ethnology], Iss. 12, 8–18; atlas A1–A7. Kyiv. https://doi.org/10.31318/2522-4212.2017.12.132084 [in Ukrainian].
Macievsky, I. (2012). Muzychni instrument hutsuliv [Hutsul's folk music intruments]. Vinnytsia: Nova knyha, 2012. 464 p. [in Ukrainian]
Madyar-Noval, V. (1999). Zbirnyk zakarpatskyh narodnyh pisen [Collection of transcarpathian folk songs], Vol. 1. Uzhgorod: Zakarpattya. [in Ukrainian].
Motruk, N. (2020). Narodnoobriadova pisenna tvorchist kolomyiskoho Popruttia v konteksti tradiciinoi muzyky Pokuttia [Folk Song of Kolomyia Popruttya in the Context of Traditional Music of Pokuttya]. Lviv. 161 p. [in Ukrainian].
Myshanych, M. (1984). Muzychno-etnohrafichnyi arhiv: u 3 knyhah. Zahidni oblasti Ukrainy [Music-Ethnographical Archive in 3 vol. Western Regions of Ukraine]. Vol. 1. Lviv. [in Ukrainian].
Pelina, H. (2017). Tradytsiina muzychna kultura Maramoroshchyny v aspekti etnokulturnoho pohranychchia [Traditional Musical Culture of Maramures Region in the Aspect of Ethnocultural Frontier [Dissertation of the candidate of art history (17.00.03)]. Kyiv: National Academy of Music named after P. I. Tchaikovsky [in Ukrainian].
Roshchakhivsky, M. (2019). Muzyka i spiv u prysilku Vyshovatyi v Maramoroshi [Music and singing in the Vyshovatyi village in Maramures]. Antolohiya naukovoi dumky pro narodnu muzyku Zakarpattia. T.1. Pershi doslidnyky muzychnoho folklore Zakarpattia: Filaret Kolessa, Bela Bartok, Mykhailo Roshchahivsky [Anthology of scientific thought about the folk music of Transcarpathia. Vol.1. The first researchers of the musical folklore of Transcarpathia: Filaret Kolessa, Bela Bartok, Mykhailo Roshchakhivsky], pp. 226–250. Mukachevo. [in Ukrainian].
Rybak, Yu. (2009). Nelohichni tsezuruvanniya v zahidnopolisskyh pisnyah [Illogical caesuras in West Polissya songs]. Dynamika folklornoho vykonavstva: materialy naukovo-praktychnoi konferencii do 30-richya kafedry muzychnoho folklore [Dynamics of Folklore Performance: Proceedings of the Scientific-Practical Conference Dedicated to the 30th Anniversary of the Department of Musical Folklore], pp. 16–22. Rivne. [in Ukrainian].
Shuhevych, V. (1904). Materialy do ukrainsko-ruskoi etnolohii Naukovoho tovarystva im. T. Shevchenka u Lvovi. Hutsulshchyna [Materials on Ukrainian-Russian Ethnology of the Scientific Society named after T. Shevchenko in Lviv. Hutsul Region]. Vol. 7, Par 4. Lviv. 271 p. [in Ukrainian].
Skazhenyk, M. (2017). Meloarealy rannotradytsiinykh zymovykh naspiviv baseinu Uborti (Serednie Polissia) [Areas of of early traditional winter-time tunes in the Ubort' River basin (Middle Polissya)]. Problemy etnomuzykolohyi [Problems of Music Ethnology]. Iss. 12, 41–53. Kyiv. [in Ukrainian].
Stepaniak-Turianska, O. (1972). Pisennyi folklore sela Kornych [Folk Songs of Kornych Village]. Lviv. 83 p. [in Ukrainian].
Symotiuk, O. (1979). Muzychno-styliovi rysy pisen Pokuttia [Musical Style of Pokuttia Folk Songs]. Lviv. 117 p. [in Ukrainian].
Bervy Project (2017). Ukrainian traditional music. Podillya. AVE030. CD audio. T.6. Kyiv: ArtVeles. The Prilipchany brothers are playing, (2010). Artveles. Ukrainian traditional music. CD audio. Kyiv: ArtVeles
But, O. (2014). Hutsul carol "Ze". [Electronic resource]. URL: https://www.youtube.com/watch?v=FO8Y9lPlvto&feature=youtu.be (Application date 25.05.2020)
Carols of the Velykyi Kluchiv, (2013). Songs and carols from Velykyi Klyuchiv. Folklore of the right-bank Kolomyia region. CD audio. Vol.2. Ivano-Frankivsk: Ivan Savchuk.
Colored Villages, (2004). Ethnic music of Ukraine. Atlantic. CD audio.
Folk crafts of Ukraine, (2016). TV show: Public Podillya. URL: https://www.youtube.com/watch?V=5LOgjRb6RBA&list=PLm76IAUFDnBja1l3JU34ZE571XUCanP8K&index=28 (Accessed 10.06.2020).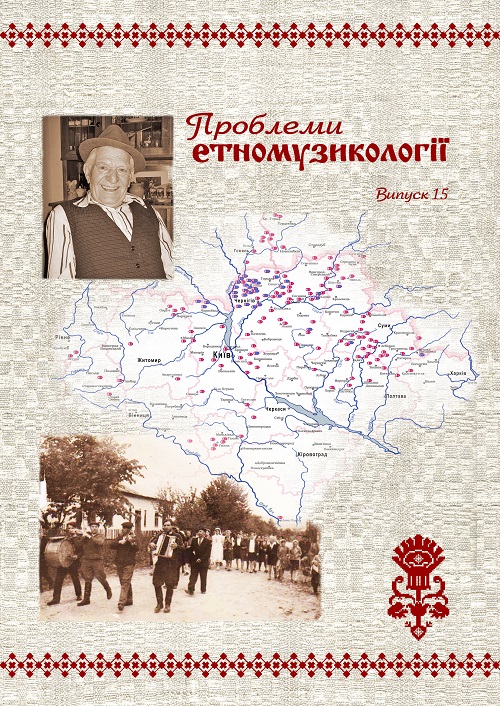 ##submission.downloads##
Розділ
Розділ ІІІ. Типологія та географія зимових наспівів